Greetings!
The first new TIC3 product release of 2015 was made available to customers on 17 March 2015 and it includes 83 enhancements since the last release of 2014. To familiarize customers with the most important changes, GEWI has produced a video which includes the most important changes. Read more about the features in the new 2015 release and the new customer video in this newsletter.
We will also take a look at how TIC3 collects and harmonizes data and the many benefits of a true COTS (Commercial off-the-shelf) product as compared to "Clones" which are often presented as COTS products.

Q2 2015 begins the conference and exhibition season for GEWI with events in Turkey, Canada and the United States. View the GEWI conference schedule and a profile of GEWI North America CEO Jim O'Neill who will be attending and exhibiting at both the ITS Canada and ITS America conferences.
Should you have any questions about anything in this newsletter, to discuss your requirements or for a product demonstration, please contact us at info@gewi.com
There is a growing trend in Commercial-Off-The-Shelf (COTS) software products versus build-your-own solutions in many industries, including transportation. But, it should be noted that all COTS systems are not created equally.
True COTS products provide higher reliability at lower total costs over a period of several years, when compared to build-your-own solutions, and usually result in fewer headaches and greater peace of mind.
However, it should be noted that not all COTS products are created equally. In fact, some products which claim to be true COTS products are really CLONES.
The difference between the two is significant, and important to understand, especially because CLONE systems can eventually become as expensive to maintain and change as build-your-own solutions.
A true COTS system is deployed primarily by configuration with little need for custom code development. In a true COTS product there is a single core product for all customers that is continually updated and improved based on customer requests and requirements.
In comparison, when a CLONE product is first deployed as a system, most requirements are fulfilled by coping another customer's system, and as long as both customers want the same thing, the clone system is similar to a COTS system.
However, when CLONE system customers begin to want different features and not all CLONE customers want to contribute to the resulting development costs, the two systems begin to diverge from one another to the point where the CLONE system can no longer be maintained as a single core software. Economy of scale is lost and separate development efforts have to be made, just the same as build-your-own systems, and costs rise for both CLONE customers.
By contrast, most true COTS systems do not need to charge additional fees for incremental improvements to licensed COTS product features.
Other benefits of a true COTS product are: lower cost to deploy, faster time to deploy, and many customers running the same software version mean improved reliability.
For more information on the benefits of a true COTS system, visit www.gewi.com to locate a representative in your area.
Conference season moves into high gear in Q2 and GEWI will be attending conferences in the United States as well as Canada and Turkey in the coming months. Each of these will be an opportunity to meet GEWI personnel and see the latest developments in the TIC3 software.

GEWI's Director of North American Customer Projects
conference 05-06 May 2015 in Boston
Mass.

GEWI North America CEO Jim O'Neill will be both exhibiting and attending the ITS Canada annual meeting and exhibition which will be held from
24-27 May 2015 in Gatineau Quebec.




Andrew Kristoffy, GEWI Director of Marketing & Sales Worldwide will be traveling to Turkey to attend
Intertraffic Istanbul from 27-29 May 2015.



GEWI's Worldwide CEO Hagen Geppert will join Jim O'Neill and Eli Sherer at ITS America annual meeting in Pittsburgh Pennsylvania 01-03 June, 2015.

If you are planning on attending any of these events, send an email to schedule a time for a visit. You'll find the contact information for each conference attendee at www.gewi.com

Every Friday afternoon in the GEWI office in Bernburg, Germany a weekly development release of the TIC Software is issued for testing. Up to four times per year, these weekly releases are provided to GEWI customer as production ready software releases after successful product testing.
On 17 March 2015, the Q1 2015 version of TIC3 was released which included 83 product feature changes since the last product release of 2014. The next product release for 2015 is schedule for June of this year.
Some of the more notable feature changes in TIC3 include a number of feature enhancements have been made to the TIC Digital Map network which provides the ability to locate all roads, areas, points of interest in TIC. The new features provide a more precise textual description which can be more easily understood by a driver as well as improvements to the "Auto-Complete" location data to now include built up areas as well as roadways, TMC encoding of roadways with multiple road numbers and adding more friendly common road names.
Based on customer requests, 32 additional TIC3 Event codes and 5 additional Event attributes have been added which reduces the need to use free text. And, many customer requested convenience features have been added or updated for TIC Smart Client users to improve operator performance and data quality.
A video which highlights many of the improvements in the latest version of TIC3 is available for GEWI customers, just contact your GEWI customer project representative.
Since 1997 the TIC Software product has continually evolved as solutions to requirements of customer projects deployed worldwide have been built into TIC3.

The "Collect" component of TIC is the first step in the process of harmonizing diverse sets of data within TIC. Over 50 "Collect" components have been developed to collect standard data types including incident data, camera data, weather data, and many more. TIC can already collect from many different data feeds, for example from Siemens Concert, Trafficland cameras, INRIX, ADAC, HERE, TomTom, and DATEX II feeds. By simple configuration the TIC system can collect this data and then convert it into TIC3 harmonized standards for location or event type encoding during the "Convert" step.

Once data is in the TIC3 format, the data is easily fused, merged and harmonized with other data, ready for the TIC system to use with the many "Distribute" components which support over 40 standard data types. Additionally, custom components can be created to allow TIC to Connect to a proprietary data format.

The capability to collect virtually any transportation (and other) data means that TIC can be used for a wide range of traffic and travel event projects, regardless of data formats, standards and location referencing methods worldwide.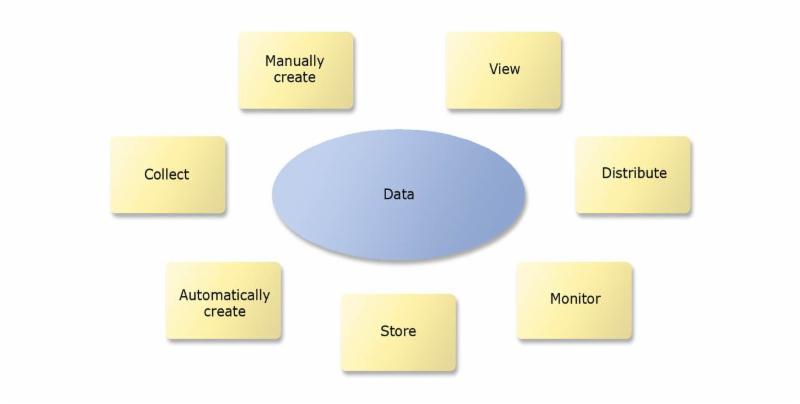 The TIC Software product consists of seven main processing features which can be performed on a wide range of data types. As a true Commercial Off-The-Shelf (COTS) product these features are available by configuration of the TIC product rather than by custom development which saves GEWI customers time and money.
The "Automatically Create" feature is a powerful feature that allows for one type of data to automatically create more data. An example of this would be GPS data which is received by TIC through the "Collect" component. The "Automatically Create" component can be configured to create flow data from GPS data, and furthermore even create event data from the flow data based on user defined threshold criteria. For example, when speed on a road segment falls below a certain percentage of average speed.
Other types of data which TIC can automatically create from other data include RDS-TMC from Traffic and Travel Event (TTE) data, TPEG TEC from TTE data, TPEG TFP from Traffic Flow data and more.

For more information about TIC product features and how TIC Connects Systems-Vehicles-Travelers, visit www.gewi.com
Because visualization and precise reference of traffic and travel events is critical to Traffic Operations Centers, GEWI has recently made several improvements to the latest version of TIC release for Q1 2015. To better explain these enhancements to the customer, GEWI has released a new video intended to be used for customer operator training.
The video describes the enhanced features of the TIC Smart Client Map window, which now offers easier and more precise methods to create a location reference for traffic and travel events along with a number of new map window functions.
Some of the new features include a more detailed location preview when hovering the mouse, intelligent map scrolling, detailed POI tooltips, quick area selection, easy location extent modification, dynamic incident extent preview, enhanced waypoint features, fast entry by complete road segment or ramp, several new context-sensitive commands and improved visualization of map locations.
These continuous improvements are made possible thanks to GEWI created map data engine which creates the TIC Digital Map data from a variety of map data provided in GDF format. GEWI created its own map data engine to be able to more quickly respond to customer requests, and not be reliant on a third party for the very critical map related feature of the TIC Smart Client.
Customers may contact their GEWI customer project representative for access to this new video. Or, for a demonstration of the new TIC features, contact info@gewi.com
GE

WI's
web site
includes
videos
for several TIC product features. The videos make it easy for website visitors to self-demonstrate the TIC system and to view how specific pro

duct features can be used for a variety of public and private sector markets.
Available videos include:
- Weather
- Parking
More videos are being produced to provide an introduction to other TIC product features, so check www.gewi.com occasionally to view the new videos.