Greetings!
2015 marked GEWI's 23rd year in business, and saw the addition of many major new features to the TIC Software. The year began with the deployment of TIC for
Road Incident Management
which included the new "Project" feature of TIC. TIC for Work Zones also benefits from the "Project" feature and saw many other recently released improvements for work zones. Read about new work zone features as well as a profile of Dirk Vatterott, the GEWI developer responsible for the new Work Zone Traffic Control user interface.
A new work zone
video
and
leaflet
are also available, and GEWI is pleased to have renewed our agreement with the German state of Hessen who has used TIC Software for over 15 years and is now looking forward to adding the latest features for work zones.
And, as work zones get connected, TIC is ready to process the newly available data. Read more in this issue.
Should you have any questions about anything in this newsletter, to discuss your requirements or schedule a product demonstration, please
contact
us at
info@gewi.com
.
TIC for Work Zone can be used to create and share accurate information about road work zones. Accurate information can help improve planning of work zones and better inform travelers lane closures, diversion routes, and delay times.

The resulting data can be immediately shared as data with other systems to inform or alert drivers, helping to avoid potential problems.
Transportation companies and agencies can use the data to check if heavy trucks or wide loads can pass through work zones or diversion routes.
Create Permits
Operators can create traffic control permits easily by using custom templates.
Create Detour Route
TIC can be used to identify and verify detour routes, such as those shown on navigation devices. This allows for potential detour conflicts and restrictions to be avoided.
Create and Share Information about:
Location of work zone activities.
Planned and actual durations.
Traffic control, lane use, and restrictions.
Additional travel restrictions such as closed exits.
Reach Navigation Systems
TIC creates accurate and precise data which is fully compatible with popular navigation systems.
Easy to Use
TIC's intuitive user interface enable operators to quickly create, check and improve data. For example, operators can specify actual work zone traffic controls such as closed and reassigned lanes with widths, speeds and weights.
For more information about TIC for Work Zones, watch the
video,
download the
work zone leaflet
or visit www.gewi.com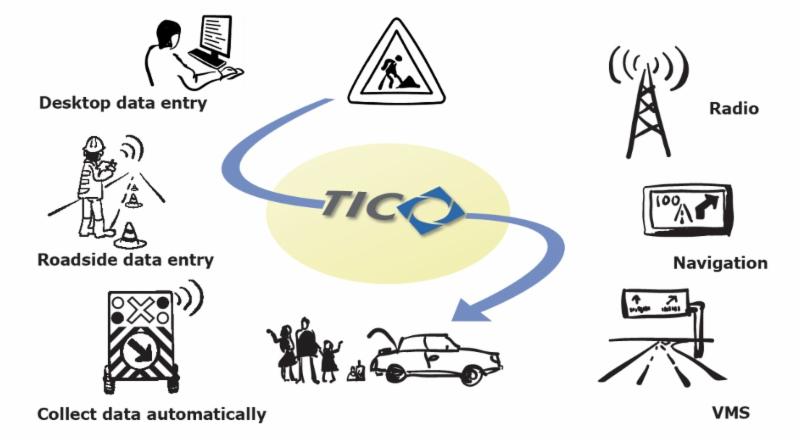 GEWI first became involved in Connected Work Zone projects in 2010 when the German state of Hessen implemented a demonstration project for
Local Hazard Warning
(LHW).
The LHW project involved collecting information from the Work Zone trucks or trailers and delivering the information to the Traffic Management Center using GEWI's TIC software. The operator would then verify the location of the work zone including specific advice for motorists. This information was then distributed to vehicles navigation units in TPEG format. GEWI demonstrated this technology at the 2011 ITS World Congress in Orlando, Florida.
As work zones get "Smarter" TIC has many features that could be applied to Connected Work Zone projects:

Smart Traffic Cones
Data from Smart Traffic Cones is used to verify the current condition of the work zone, reporting actual start/end times, specific lane closures, and work zone location.
Mobile Devices
Use the "voice" feature of smart watches, smart phones and tablet devices to report actual work zone conditions, as described in Smart Traffic Cones.
Connected Snow Plows and Work Vehicles
Position data from vehicles is collected and used to inform the public of where roads have been plowed, or the current location of vehicles in moving work zones such as sweeping or mowing operations.

VMS
Deliver real-time information about work zone locations, delays and advice.

Cameras
View cameras in work zone areas. Cameras located in the work zone area are automatically shown in the "Relation Window" of TIC which displays camera images and other related data (speed, historical data, weather) at a work zone location defined by an operator.

Traffic Flow
Collect traffic flow information in the Work Zone from "Smart Traffic Cones" or other vendors such as HERE, INRIX, TomTom, or from an agency detection system. This information can be used to verify accuracy of work zone conditions.

Data Harmonization and Exchange
Collect and harmonize data between various external systems and data exchanges.

And, TIC has been designed to be easy to use to enable operators to quickly create, update, check, and improve data about work zones as well as traffic and travel events.

For more information, view the TIC for Work Zone video, or visit GEWI online at www.gewi.com
The 2015 ITS Texas Annual Meeting was held in Sugar Land, Texas at the Marriot Towne Square Hotel, 11-13 November 2015. GEWI attended the conference as both an exhibitor and speaker on the topic of Social Media and Traffic Management.
GEWI exhibited the latest TIC Software features during the conference, whose theme was "Talking the Talk - ITS, Vehicle Communications, Texas and You".
GEWI North America's CEO Jim O'Neill, who is also based in Texas, spoke to attendees on the topic of how social media could be integrated into traffic management. This also included the latest features for
Road Incident Management
(RIM) features of the TIC Software.
TIC is
used for
many traffic and travel projects worldwide. The TIC software can collect or manually create data from many different sources and harmonize this data, storing it in a single database. Similarly, TIC can distribute data along multiple channels and formats, to be used for the internet (websites), broadcast, navigation services, and social media (Twitter, Facebook, etc.); and all data is distributed from the same harmonized database.
For more information, visit www.gewi.com

Hessen Mobil has renewed their agreement with GEWI for an additional two years, and will be adding several new features to improve the management of their Work Zone projects.
The TIC feature "Project" will be used to track each step of work zone projects. This will allow work zone project information to be managed consistently and efficiently.
The new "Work Zone Traffic Control" feature (shown above) will be used to graphically represent the
the new
lane usage and restrictions during the work zone project.
The new feature "Traffic Restrictions" will also be used to enable the agency to capture any restrictions for heavy trucks.
Hessen has used TIC for years to create Work Zone data and in 2016 will use TIC to collect data from a work zone highway system.
GEWI is pleased to be able to provide the latest TIC features for Work Zones and look forward to many more years of working with this long time customer.
A new TIC for Work Zones leaflet is now available.
The leaflet describes how TIC software can be used to improve work zone planning, create and share information, inform travelers, check diversion routes, create permits, analyze work zone impact, and more.
T
o schedule a demonstration
contact
a representative in your area region.
GE

WI's
web site
includes
videos
for many of the TIC product features. These videos make it easy for website visitors to self-demonstrate the TIC system and to view how specific pro

duct features can be used for a variety of public and private sector markets.
More videos are being produced to provide an introduction to other TIC product features, so check www.gewi.com occasionally to view the new videos.
The TIC3 product allows you to perform many transportation related tasks simply by configuration of this commercial off-the-shelf (COTS) software.
Click here
to download the TIC product brochure which describes how the same TIC3 product architecture can be flexibly configured and
used for
many different purposes including:
As a commercial off-the shelf (COTS) solution, TIC
can be deployed and expanded much more quickly and cost effectively than custom build-your-own solutions while offering the most advanced features and functionality.
GEWI Newsletter
Nov/Dec 2015
GEWI Profile