Greetings!
Road safety is a global concern and GEWI's TIC Software product has long been capable to be configured to assist in roadway safety.
TIC projects for road safety include the 2010 Hessen Mobil
Local Hazard Warning
(LHW) project (elements of which now known as Smart Work Zone), to using TIC for wrong-way drivers, and new features for heavy truck routing and to enable GEWI customers to be compliant with the EU Safety Message directive
.
Safety is also the topic at ITS America where GEWI North America's CEO Jim O'Neill will be speaking on a panel discussion on how technology can improve safety for first responders at the upcoming conference in San Jose, California.
Read more about these TIC safety benefits in this newsletter, or if you will be attending ITS America, then schedule a demonstration of the wrong-way driver feature and other TIC market solutions by contacting
jim.oneill@gewi.com
.
Customer projects' team member Mathias Müller has been busy upgrading eight of the 16 German State Police systems from TIC2 to TIC3. Read more about Mathias, about GEWI's stand at ITS Europe, TIC's new features for heavy truck routing, and more, in this newsletter.
Should you have any questions about anything in this newsletter, to discuss your requirements, or schedule a product demonstration, please
contact
us at
info@gewi.com
.
Wrong-way drivers are a dangerous, often fatal, occurrence worldwide.
Fortunately, there are systems now available which can detect the wrong-way Driver.
When a wrong-way driver is detected, TIC can immediately take actions to simultaneously respond to this hazardous situation and inform the appropriate agencies, navigation devices, broadcasters and the general public via social media.
To implement TIC for wrong-way drivers, agencies only need to collect the wrong-way data from their system and configure TIC for the appropriate response.
An example response would create an URGENT Project for the system operator using
TIC for Road Incident Management
which then could notify the proper agency to respond, trigger a VMS message, send an alert to navigation devices, social media such as Twitter, and to local broadcasters using
TIC for Traffic News Announcements
. Broadcasters receive a notification and are able to read the latest information directly from their screen, interrupting current programming for urgent messages.
Because TIC is a commercial off-the-shelf (COTS) product, all of the wrong-way driver features are available by system configuration rather than custom software development. This means the system can be deployed more quickly and affordably than with custom-built solutions
.
For more information,
contact
a GEWI representative in your region.
The European Commission has long seen Intelligent Transport Systems (ITS) as a tool to improve road safety and reduce road casualties.
Recently introduced, EC Directive 2010/40/EU aims to accelerate ITS coordinated deployment via 'Data and procedures for the provision, where possible, of road safety-related minimum universal traffic information free of charge to road users.
GEWI has recently completed upgrades to the TIC Software which enables organizations to comply with this directive and distribute these safety related traffic messages through a variety of channels including, RDS-TMC, TPEG, broadcasters, and more.
The TIC Software will automatically alert Operators of a safety message such as adverse driving conditions, work zones, wrong-way drivers, and traffic and travel events.
The event is automatically logged by the TIC system and then, based on configuration, simultaneously distributed to all channels.
A TIC system can be implemented to support operation of existing systems to allow users to be compliant with this EC ITS Directive, or used as a complete end-to-end solution, including encoding of the digital RDS-TMC and TPEG messages while simultaneously creating a broadcast ready script for Radio or TV broadcast.
More information is available at
www.gewi.com
including how to
contact
a GEWI representative in your region.
GEWI held TIC3 user training for operators of eight German State Police agencies who have recently upgraded to TIC3 from TIC2 in order to benefit from the many new product features, especially the TIC Digital Map Features
.
T
he TIC Digital Map provides the ability to more precisely encode traffic data and deliver traffic and travel event information to navigation devices by TPEG.
From 31 May to 01 June 16, users met at the GEWI offices to review operations, discuss problems and ideas, followed by a tour of Bernburg on their first evening.
On the second day, GEWI developers and customer projects teams made presentations to the group, including details and demonstrations of the new TIC Statistics feature, TIC backup features, a prototype of the new TIC data entry method, and TIC backup features.
There are already plans for another workshop to be held as the rest of the German State Police also upgrade to take advantage of the many system features available in TIC3.
For more information about TIC user groups, contact mathias.müller@gewi.com.
First responder safety is an issue worldwide, and GEWI will be participating in a panel discussion on how technology can make the job of first responders safer.




GEWI North America CEO will discuss how First Responder safety can be improved, including:
Using technology to shorten initial response time.
Reduce the risk of incidents by shortening the time first responders are on the scene.
Increase safety by informing drivers more rapidly and precisely of hazards ahead.
Real-time alerts of dangerous situations such as wrong-way drivers.
Post-event analytics to continually improve response plans.
The ITS America conference will be held 11-15 June,2016 in San Jose, California and will also be attended by GEWI Worldwide CEO Hagen Geppert, and Eli Sherer.
If you are planning on attending and would like to schedule a time for a personal demonstration of the TIC Software including the new wrong-way driver feature, please email
jim.oneill@gewi.com
.
TIC can now be used to improve the safety of commercial vehicles on the roadway by providing routing to warn of problems for over-dimensional roads.
The new TIC product feature "Oversize/Overweight Transport" (OOT) can be used to check the routes
of oversize/overweight transports for any restrictions such as work zones, incidents, and any other limitations (tunnels, bridges) etc.
Several characteristics can be checked including:
Route (start, end, intermediate points).

Planned schedule (start, end).

Vehicle width.

Vehicle height.

Vehicle length.

Total vehicle weight.

Axle weight.
The OOT feature can be used with TIC product features work zones, traffic restriction (which consider a

ny other limitations of the road such as lane width, height, total weight, axle weight) and traffic and travel information.
When a route is requested, any conflicts between the vehicle size and traffic restrictions will be shown in the TIC relation window. The route can then be modified until no conflicts between the vehicle dimensions and requested route exist.
In the future, TIC could also be used to create an OOT permit
.
The 11th ITS European Congress was held from 6 to 9 June 2016 at the Scottish Exhibition and Conference Center (SECC) in Glasgow, Scotland. GEWI was one of more than 80 companies exhibiting and demonstrating state-of-the art ITS solutions.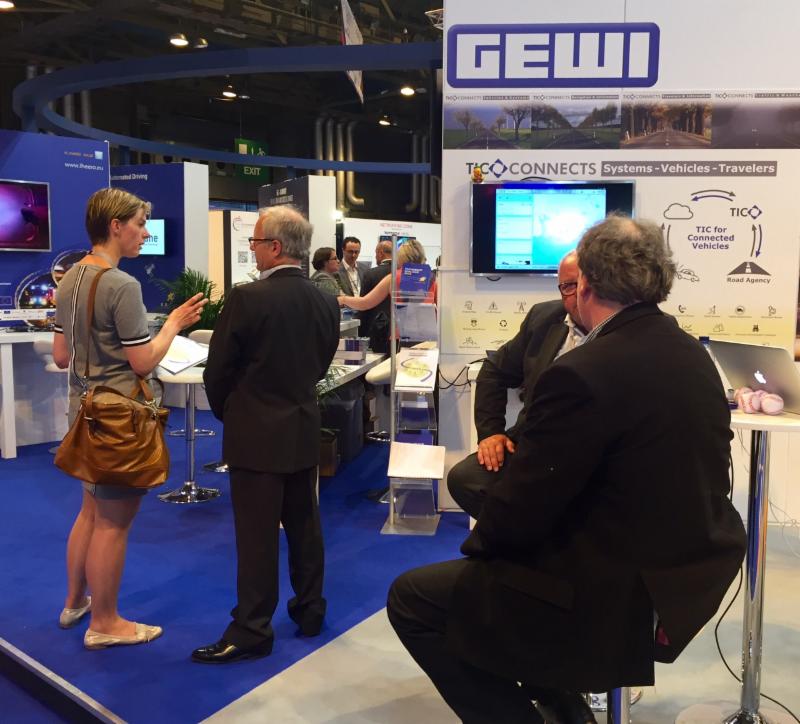 GEWI representatives from Germany, the UK and the United States were in attendance exhibiting with TISA/ERTICO and demonstrating the latest Road Incident Management and Work Zone features as well as many other solutions which the TIC Software product has been
used for
since 1997.
The ITS Congress consisted of three main areas: the congress program (sessions and presentations of the latest developments in ITS), demonstration (showcases of current ITS technology being developed and deployed throughout the world) and the exhibition (exhibition booths and dedicated sessions and events).
This ITS European Congress featured over 100 events between sessions, associated events, demonstrations and technical visits. There was a great deal of interest in the new TIC features demonstrated at the GEWI booth and delegates from more than 20 countries stopped by for demonstrations and to collect the latest TIC brochure and market solution leaflets.
The exhibit hall opened on 06 June to the sound of bagpipes and the opening reception featured local Scottish food and beverages including haggis appetizers, an unfamiliar delicacy for those traveling from afar.
GEWI will next be exhibiting and demonstrating the TIC Software at ITS America in San Jose, California 12-15 June.
GEWI has recently updated both the TIC for Traffic brochure as well as leaflets for all of the TIC market solutions. The new leaflets feature the latest information and features for each market solution.
Click the link below to view and download the brochure and leaflets:
As a commercial off-the shelf (COTS) solution, TIC
can be deployed and expanded much more quickly and cost effectively than custom build-your-own solutions while offering the most advanced features and functionality.
T
o schedule a demonstration, or for more information
contact
a GEWI representative in your region.
GE

WI's
web site
includes
videos
for many of the TIC product features. These videos make it easy for website visitors to self-demonstrate the TIC system and to view how specific pro

duct features can be used for a variety of public and private sector markets.
More videos are being produced to provide an introduction to other TIC product features, so check www.gewi.com occasionally to view the new videos.
GEWI Newsletter
May/Jun 2016
GEWI Profile