Greetings,
In many parts of the world it is said there are two seasons; winter and road construction. With the arrival of Spring that "second season" is upon us and given the new Work Zone features of GEWI's TIC Software, Work Zone seemed a timely topic for this newsletter.
In this issue the new features for Work Zone are discussed as well as news about a GEWI hosted state-wide Work Zone project.
The Q1 2017 release of the TIC Software is now available and it includes many improvements including the ability to collect, create, and distribute Waze crowd-sourced data. With Waze data now available to
TIC Product Features
, many actions may now be taken based on the Waze data such as
automatically creating Pothole repair projects
. Read more in this issue including a
new video produced by GEWI
that better describe how Waze data can be used by the TIC Software.
We will also profile Andreas Crodel who has been a part of the GEWI Product Development team for more than half of the companies 25 year history.
Should you have any questions about anything in this newsletter, please
contact
us at
info@gewi.com
.
GEWI recently completed work on a component for the TIC Software which will collect Waze data and automatically take actions based on the specific Event type and Subtype.
One example is the ability for the TIC Software to automatically create road repair projects based on user-generated pothole reports from Waze.
The process uses the Project feature of the TIC Software, which allows a public agency to decide the specific steps to be taken when a pothole is reported. For example, based on the location of the pothole, a notification can automatically be sent to the maintenance department responsible for the specific roadway. Further specific steps can be assigned based on the repair process specified by the agency.
Information about the repair can also be distributed to Waze in the Waze data format. After completion, all steps can be analyzed to create management reports and implement ongoing process improvement.
TIC can also be configured to prioritize pothole repair projects based on road class so that potholes on more heavily traveled roadways receive more immediate attention
The process can be completely automated, or an agency can first have an operator review, verify, prioritize and assign the repair project manually.
All of the other advanced traffic information features of TIC are available within the repair project as well, so information can be distributed to navigation devices, broadcasters, VMS signs, portable devices, web pages, and directly to Waze.
For more information or to schedule a demonstration of this feature contact
jim.oneill@gewi.com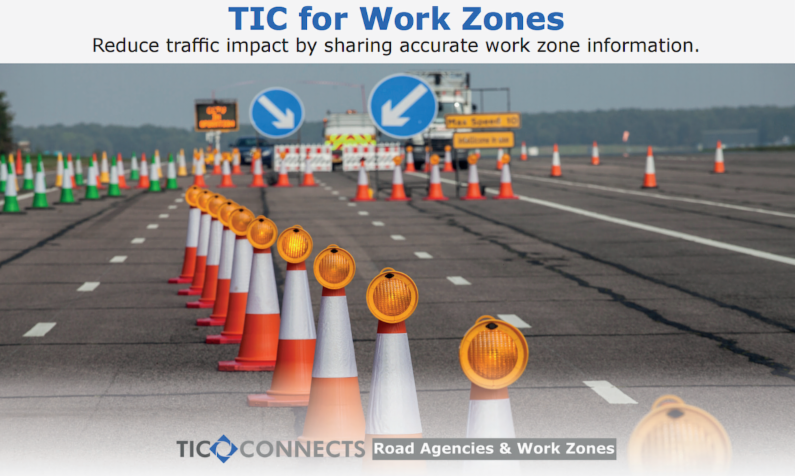 GEWI's TIC Software has been demonstrated as compatible with Smart Work Zones since the ITS World Congress in Orlando in 2011. At that conference, GEWI participated in a Local Hazard Warning (LHW) demonstration involving BMW and Florida DOT to provide real-time road hazard information directly to an in-vehicle navigation unit.
Six years later the market, technologies and available data sources have evolved, and GEWI has added the ability to process real-time Work Zone data in the TIC commercial off-the-shelf (COTS) software that is used in transportation projects worldwide.
One of the major issues with Work Zones globally is identifying when workers are actually present, and accurately reflecting the impact the Work Zone has on traffic. GEWI's TIC for Work Zone solution can collect real-time data from:
Maintenance trucks.

Recovery vehicles.

Arrow signs.

Crash trucks.

Speed sensors.

Cameras.

Crowd-sourced data.
...and more emerging sources which enable reporting actual work zone conditions to the traffic management center, navigation devices, IVR, web sites and any other system which require the data.
Work Zone planning
TIC Software can also be used in the planning stages for Work Zones. Historical data can be collected by TIC to allow agencies to determine the impact road work will have during the construction and also coordinate work zone efforts between multiple agencies, authorities and municipalities.
Work Zone permits
GEWI has also added the capability to issue Work Zone permits directly from within the TIC Software. Because the same TIC Software is used to create the Traffic and Travel Information (TTI), this Work Zone information is immediately available to create and distribute reports about the project to all required systems.
Identify Work Zone Conflicts
TIC can alert operators to conflicts in data that is collected or created about the Work Zone. The agency can then decide what steps should be taken to resolve this conflict.
All-in-one System
With all of the data related to the Work Zone available in the TIC System, many product features can be used such as the Project feature, which allows an agency to define custom steps to be followed during a work zone project, in order to better manage all phases of the project through to completion. This can include notification of all appropriate stakeholders when specific milestones are reached or new tasks are required.
For more information about the feature of TIC for Work Zones visit
www.gewi.com
to download a leaflet, watch the Work Zone video, or contact a representative in your area.
One of the issues that road agencies have worldwide is coordinating Work Zone activity at a local, county, state and Federal level. GEWI's
TIC for Work Zone
provides an off-the-shelf solution for the planning, operation, communication and information distribution for all elements of a work zone at every agency level.
As a GEWI hosted service the TIC for Work Zone solution can be deployed in a short time frame and can be used with either a browser or a locally installed TIC Smart Client.

Benefits start in the planning stages of Work Zones to ensure that no conflicts exist between adjacent authorities, as well as during operations to communicate real-time Work Zone and delay conditions which may impact neighboring jurisdictions.
Project specifics are confidential as of the time of this newsletter publication but if you would like to learn more about TIC for Work Zone you may view this video or contact info@gewi.com
In 1997, GEWI released a software product known as TMC office. This software was the first generation of a software product now known worldwide as TIC.
In the 20 years since the first release, significant improvements have been made to the TIC product based on customer requests, project requirements and market demand. The Q1 2017 version (4.33) has been released and is now available for productive use by GEWI customers.
Nearly 60 changes were made since the last quarterly software release which will further improve the customer experience. A few of those changes include:
Waze data components now enable Waze data to be collected and distributed in the Waze data format.
Waze data available to TIC Solutions and TIC Product Features.
Exclude specific Waze data allows users to "mute" data that may be duplicate or not required to be collected by TIC.
TIC Server updates have been made easier.
Data model performance improvements for more efficient use of system resources.
Several User Interface improvements:

More intuitive location experience.
TIC pre-selects likely secondary locations.
Icons for priority, urgent, Object version type and Event cancellation time data.
Support for position element of new traffic and travel event codes.
Improved user view for cancelled events.
Improved text generation for complex elements.
TIC Newsreader improvements.

The "Statistics (Automatically create)" component type supports the new filters for Urgency, Data producer, Traffic and Travel Event Code, and Object category for the 10 types of statistics requests.

For 10 types of Statistics requests it is possible to specify whether the statistics result is created for the entire data set, only for new data, or for changed data.
Customers wishing to update to the latest TIC version may contact their GEWI representative.
GEWI never requires that any user update to a newer version of TIC Software. All previous versions of TIC continue to be supported as long as there are one or more active licensed users.
Operators at traffic management centers today have more data available to them than ever before which is why it is critical that the information be organized in a manner that enables maximum productivity.
This is one of the benefits of the Relation Window in GEWI's TIC Software. It allows an operator working on an incident or Work Zone to be able to bring together, automatically, all relevant available data.
This includes data such as;
Traffic cameras.
Speed and flow data.
Data from other systems.
Crowd-sourced data such as Waze.
Weather.
Work Zone data.
...and more.
TIC can alert operators to data conflicts to allow them to check the other available resources to resolve the conflict and quickly update the event information to reflect what is actually occurring on the roadways.
For a demonstration of this feature or more information visit www.gewi.com.

GEWI has completed both the Collect and Distribute components for the Waze crowd-sourced data. This provides agencies an off-the-shelf solution to collect, view, modify and distribute data in the Waze data format. All TIC Product Features and Solutions are now available to be used with the Waze data. Click here to watch the video to learn more.
Over the past 25 years GEWI has become recognized as a global leader in traffic and travel information software and as the TIC product has added solutions and product features it has become more challenging to describe the many ways TIC can be used as a solution.
What today is known as TIC (originally for Traffic Info Centre, but now evolved into much more), was developed in its first generation as TMC Office when it was initially deployed in 1997. Now in its fourth generation, TIC has evolved into a true commercial off-the-shelf solution (COTS) for many markets described on the GEWI website:
The new website also has improved navigation features and new page layout which makes it easier to relate specific TIC product features to market solutions.
We invite you to check
www.gewi.com
to see the latest improvements including the ability to submit customer feedback which is an important part of the GEWI product development process.
GEWI has recently updated its videos, TIC brochure, and leaflets to help customers quickly and more thoroughly understand the market solutions which can be implemented using TIC.
The new leaflets feature the latest information and features for each market solution. Existing customers are encouraged to view and read the information because GEWI is constantly adding more features and functions in new innovative ways.
Click the link below to view and download the brochure and leaflets:
As a commercial off-the shelf solution (COTS), TIC
can be deployed and expanded much more quickly and cost effectively than custom build-your-own solutions while offering the most advanced features and functionality.
T
o schedule a demonstration, or for more information
contact
a GEWI representative in your region.
GE

WI's
web site
includes
videos
for many of the TIC Solutions using TIC product features. These videos make it easy for website visitors to self-demonstrate the TIC system and to view how specific product features can be used for a variety of public and private sector markets.
More videos are being produced to provide an introduction to other TIC product features, so check www.gewi.com occasionally to view the new videos.
GEWI Newsletter
Mar/Apr 2017
GEWI Profile